WordPress Websites Outperform Traditional Websites
WordPress Sites Outperform Traditional Websites
Alex Colburn, Colburn Strategic Partners
The Internet of the Past
Users of the internet were much different 20 years ago. One reason for that is technical; the dial-up internet connections at the time were holding usage back. Less data could be stored and accessed on servers by the average user, and as a result the internet featured data-light websites and applications. From the user experience, interacting with the internet meant both that your home phone was inaccessible and that you were going to invest some time into waiting for pages to load. Many web pages acted as nothing more than static billboards, displaying HTML information passively.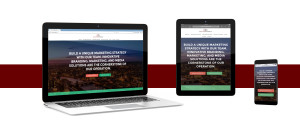 Web 3.0 and Today's User
Fast-forward to present day, and you'll see a much different type of person using the internet. Users expect a full experience when they visit a website. Inter-connectivity between devices means that the web's big players are required to be active on many platforms simultaneously. Content is king, and has been reigning for 20 years now. A site's visitor will be disappointed if content has not changed between visits. Search engines, social media, and apps are fully integrated into our everyday life, and current technology trends indicate that we will only become more connected to the internet in the future.
Still, the website is the hub in which users interact with the internet. Many companies have adapted very well to this new web ecosystem, managing websites with highly crafted content and regular updates. We recommend using a website run by WordPress, as it provides you with a high quality content management system that is flexible to many various website functionalities. Here are the 5 Reasons WordPress Websites Outperform Traditional Static HTML Websites.
5 Reasons WordPress Websites Outperform Traditional Static HTML Websites
1. One-Step Posting of Content
Anyone can post updates and create web-content with WordPress' built in content management platform. Once the website is designed, posts are no more difficult than writing an email. You can also easily change contact information or company info with absolutely no coding.
2. Mobile Readiness
Google currently ranks responsive sites higher in search. This means that websites that are optimized for mobile devices, such as a WordPress Website, will come up in search more often when searched for on a mobile device. A recent Marketing Magazine study claims that 87% of consumers use their mobile devices to do online searches at least once a day. WordPress presents the perfect framework for us to build a website that is accessible on all devices.
3. Social Media Integration
WordPress' built-in social sharing features mean that your social networks will be the first to hear about your latest update or post. Whether you're a Social Media maven or novice, there is no arguing that having an integrated social media strategy will benefit your website and your business. In the next 5 years, web-based businesses are estimated to spend 22% of their marketing budget on social media and social media advertising.
If you are planning on an ECommerce Site or a Blog, then social media is critical for generating interest and facilitating relationships with your brand. Pinterest is a great platform for sharing content off of your website, and integrates nicely with a WordPress website.
4. Flexible Framework
WordPress websites provides a flexible framework in which to build any type of site with its variety of Plugins and Widgets. With WordPress, we can build you:
An eCommerce website to sell a product or service
A Blog specifically tailored for building an online community
A Learning Center website with subscriptions and paid content
A Portfolio website to display your art, past work, or real estate
An Event website to promote and/or host an event
In addition, through WordPress' theme functions, we can change the look of your website without altering the content. This means you can create your content upfront, and we can alter the visuals without creating additional work.
5. Built-In Site Statistics
Track the visibility of your website and posts with WordPress' built-in Site Stats. Site Stats gives you rich information about visitors to your website, including where they were directed from (Social Media, Links, Search Engines) and what search terms were used to find your website. This valuable information can be used to tweak your website as you expand.
Want to take your website to the next level? Click here to learn more about our WordPress Website Design service